Volunteer with Us!
2 volunteer hours subsidize one precious child's therapy session.
Jacob's Ladder depends on a village of volunteers to help reduce our cost, allowing us to provide therapy to more children.
We want to make sure your skills are utilized and you have the best volunteering experience possible. We know you'll find your time here to be very rewarding.  It's a wonderful and fun environment to be in!
AT JACOB'S LADDER:
Office Volunteers Needed! (ongoing basis)
Assist with patient intake
Process donation request letters
Scan and file documents into patients' charts
JL Academy Volunteers Needed! (ongoing basis)
We are in need of volunteers for our JL Academy, a developmental playgroup for special needs kids (ages 2 -5), which prepares them for Kindergarten. This would be hands-on help for those kids in our developmental playgroup, doing crafts, activities, snack time, and play time.  JL Academy runs Monday through Friday, 8:30 – 11 AM.
Decorating Diva (4 hours, 1-6 times/year)
Come cheer up our kids by decorating our Center for the current season or Holiday!
Spanish Translation Assistant
We are in need of a volunteer who can help us communicate with Spanish-speaking patients. If you speak Spanish fluently we would value your assistance. If speaking to people is not your thing, we also need someone to help translate documents into Spanish.
SPECIAL EVENTS:
Fundraisers
We organize fundraisers and always welcome the help of extra hands!  (Check out our Murder Mystery Extravaganza! for an example).
FROM HOME:
Birthday Card Creator (1-2 hours/week)
Are you crafty? We would love to surprise our patients with homemade birthday cards! You can help keep us fully stocked. Make them at home and drop them off or mail them to the Center.
Organize a "Paper Drive" (3-4 hours, 3 times/year)
Collect paper towels, Kleenex, toilet paper, liquid soap, and hand sanitizer. We will pick up or you can deliver.
Grant Research (2 hours/month)
Go online and search for grants/foundations serving: special needs children, Autism, medically fragile children, therapy, etc. Compile a list and send in monthly, we'll fill out the applications.
Social Media (10 min/week)
Find fun and/or interesting posts for Jacob's Ladder to share on our social media platforms.
Is there something you are especially good at that isn't on our list?  We'd love to hear from you!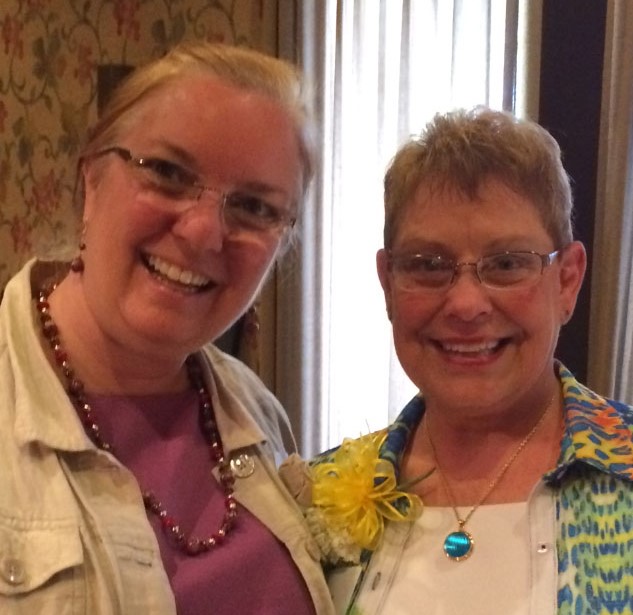 The number of hours Ms. Ruth (pictured with our Executive Director) has volunteer over the last 8 years!
"Parents appreciate Ruth so much for her ability to transform doubt into hope and fear into a giggle."